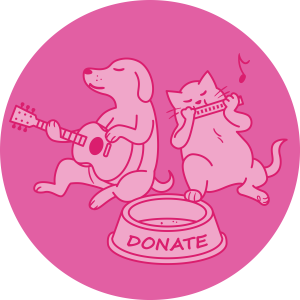 We're often asked why we charge adoption fees for our animals. The honest answer? We need to recover some costs. Zoe's runs completely on donations, and like most volunteer organizations, we rarely have little more than lint in our pockets. Every animal we bring in needs medical care, whether it's a basic checkup and vaccines, or major surgeries. And although our vets give us a discount, we still have to pay for much of this medical care. If you've owned an animal before, you know it adds up fast. So adoption fees are one way that we can stay afloat and continue to save lives.
Another reason why we charge adoption fees is that pets are never really 'free', and we need to know that adopters can acknowledge that.
So, you're still reading. Good. Here's what we charge for a spayed/neutered, microchipped, dewormed, animal. Amount of vaccines depend on length in care.:
o $350 for dogs over a year of age.
o $375 for dogs under a year of age.
o $350 for a bonded pair of dogs.
o $150 for kitten over 6 months of age.
o $200 for a kitten under 6 months of age.
o $75 for seniors
o $25 for special needs cats
o $300 for two under 6 months of age, $275 for one over 6 months of age and one under 6 months of age, and $250 for two over 6 months of age.
Special cases
Our high demand animals, and those who have had extensive medical care, may have higher adoption fees but we will also have ones with a reduced adoption fee. The profile of the animal will have if there's a different adoption fee.
Animal adoption fees can be paid by cash, money order, or email money transfer. We will also have the option of donation on the adoption contract on top of the adoption fee and any donation over $20 can receive a tax receipt if requested.
Bonus: your animal rescue adoption fee includes 6 weeks of pet insurance from Petsecure which can be activated by dialing 1-800-268-1169. It is your choice if you continue your insurance after 6 weeks (Zoe's receives a donation from Petsecure for each policy sold) but vetting is expensive so pet insurance is always recommended if you are unable to afford thousands of dollars for a vet bill.
Adoption fees are nonrefundable. Sorry.