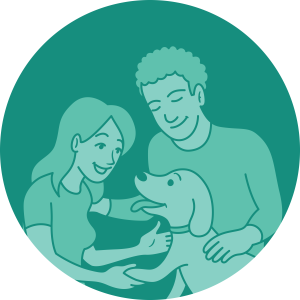 Policies:
Our cats can only be allowed outside on a harness/leash or in a catio. We do however have a barn program for cats who cannot live indoors.
All residents dogs/cats must be spayed/neutered unless there is a valid medical reason that your vet can provide to us.
Courtesy/partner post animals still have the same adoption process as our regular animals.
We do not adopt out animals as gifts or surprises.
We do not adopt out puppies in pairs due to littermate syndrome.
If you adopt from us and you must rehome the animal for any reason, the animal must come back to Zoe's. No exceptions, its part of your signed adoption contract.
We do not ship our animals. You'd be required to come to their foster home for a meet and greet and to pick up once finalized.
Kids MUST attend the meet and greets if under 16, if they are over 16 they must attend the virtual home check, at least, if they are living at home.
We only adopt to force free / positive reinforcement training homes. Aversion style training often leads to future behavioral issues.
Any adults (spouse/partner or roommate) must either be at the meet and greet or home check to ensure they are 100% on board with the adoption.
A fenced yard isn't always a requirement for dogs/puppies. Some dogs may require a fenced yard – it's animal specific.
If you rent or are in a condo, you will need to get an email from the landlord or condo board in order to adopt. This is very important as they can force you to rehome your pet! Unless you have a signed pet policy that states you can have a set number of dogs or cats without written permission.
We do ask you be patient with us during the adoption process as we are volunteer run so it can take 1-2 weeks to finalize an adoption.
Bonded pairs MUST stay together as they rely on each other for emotional support. If you are unable to take 2 please look at our many other animals that aren't bonded.
All puppies MUST attend puppy classes at force free or positive reinforcement places. This is a requirement in order to adopt and you must purchase these classes before you can bring home your new puppy.
All kittens under 5 months must be adopted in pairs or go to a home with a young cat who is 5 years and younger. We do not adopt out young kittens to be only cats as they tend to be extremely cat social and can suffer from separation anxiety, and aggression. Adopting two helps them to learn good manners! We do have some older kittens who would be ok, but it will say so in the 'about their behavior' section.
All dogs/puppies must be indoor only.
If you have no fence, dogs/puppies must be outside only on a leash, tie out, dog run or supervised.
Our adoption process is:
1. Fill out and submit our online adoption application. You will receive an Auto Reply email shortly after you submit the form. Be sure to check your Junk/Spam folders 🙂  The information you provide on our application will help us determine the best possible match for both you and the animal. Please answer all of the questions with as much detail as possible. If the animal has behavioural or medical concerns, please address them in your application.
2. Our team reviews your application. If it's a possible good match, we will be in touch with you within 14 days of the animal becoming available for adoption. (we are volunteer run and unfortunately can't respond to every application)
3. You and your family will have a Meet 'n' Greet with the rescue animal to see how everyone gets along. Meet 'n' Greets usually take place at the foster's home only. This is where you and the foster get the opportunity to hang out together with the animal, as well as talk about the animal's personality, energy level, and quirks. If after the Meet 'n' Greets either you or the foster home thinks its not a match, then the adoption won't proceed. There is no pressure to adopt!
4. If it's a match, we move onto checking your references and conduct a home check. Often, the home check is to assess the house for safety, offer tips on how to cat or dog proof further. We want to ensure you are truly prepared to take on a new animal and its' needs.
5. If all goes well, you sign an adoption contract, pay the adoption fee, then welcome your new family member home! If the kitten(s) or puppy hasn't been fixed yet then you will have to wait for that to be done first.
But that's not all! If you have any questions or need help with training, you can get in touch with us at any time.
Subject to change without notice