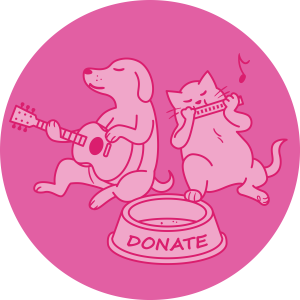 Zoe's runs completely on donations. Every animal we bring in needs medical care, whether it's a basic checkup and vaccines, or major surgeries.  And although our vets give us a discount, we still have to pay for this medical care. If you've owned an animal before, you know it adds up fast. So adoption fees are one way that we can stay afloat and continue to save lives as well as continue our Spay-Neuter-Return and Helping Hands programs.
Another reason why we charge adoption fees is that pets are never really 'free', and we need to know that adopters can acknowledge that. This is why even our courtesy posts have an adoption fee.
Here's what we charge for a spayed/neutered, micro-chipped, vaccinated and dewormed animal. The number of vaccines depends on length in care but is a minimum of 2 vaccines prior to adoption for kittens and 1 for puppies.
***************************************
Feline Adoption fees
Kittens  (under 5 months)
$225 or $350 for two
Kittens  (5 months and up)
$200 or $275 for two
Adult Cat  (1-7 years old)
$170 or $255 for two nonbonded cats
Cat and kitten
$300 if the kitten is under 5 months old, $250 if over
Senior Cat  (8+)
$75
Special needs/shy cats
$25
*********************************
Puppies  (under 1 year)
$450
Dogs  (1 year+)
$425
We have a 2-week adoption process in which the animal is on hold for you during this time. If you require us to hold the animal for longer then that, we have a $25/week holding fee that must be paid along with the adoption fee. This fee goes towards food, litter, sometimes boarding fees (if being boarded), or in some cases the last vaccine if they will be in our when it is due. In cases of multiple kittens, it would still just be $25/week.
Special cases
Our high demand animals may have higher adoption fees. But we will also have reduced adoption fees for certain animals who have special needs. The profile of the animal will indicate if there's a special adoption fee.
Animal adoption fees can be paid by cash, or the preferred payment of e-transfer. The option of an additional donation will be available on the adoption contract and any donation over $20 will receive a tax receipt.
You will also receive one free vet exam from one of our participating vets.
Adoption fees are nonrefundable.
*Caretaker program: For cats who are very shy that require understanding homes. These cats will have very specific requirements that will be listed in their bio.