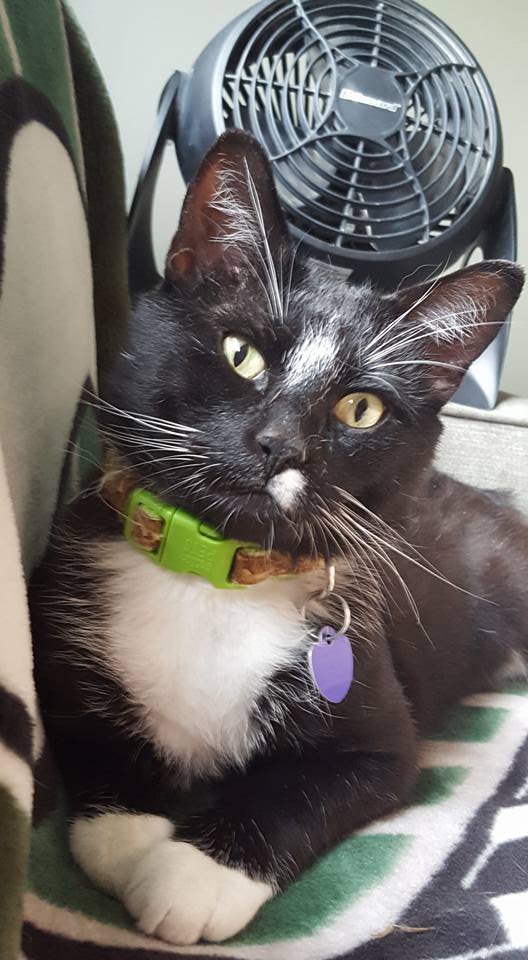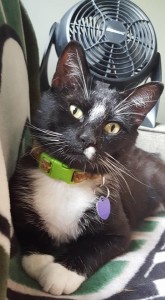 Hi! I'm Doughnut!
And I am as loveable and satisfying as a real doughnut – a maple tuna dip. True story! I'm soft and fluffy with a deliciously, fishy sweet glaze. Mmmmmm…..
I grew up as an outdoor cat, but I have wholly and fully accepted my new life indoors. Only a fool would reject this good life! I am fed regularly, have a warm and safe place to sleep and an abundance of cuddles. It's pretty much the best gig ever.
I've dubbed myself Zoe's Resident Adventure Cat because I've been all over the place. In fact, I am at The Cat Cafe right now! I also hung out at Catfest and Core with Cats and have gone a to few adoption events. Such a blast!! Most cats don't love so much change, but I do! My human accompaniments marvel at my harness and leash skills and my super laid back demeanour. But, as chill as I am, I do enjoy some play time! Don't get me wrong! I love those crinkly cat tunnels! Omgosh, so much fun!! They are my favourite. I also love wand toys and laser pointers. As a former mouser before coming to Zoe's, anything I can stalk and pounce on satisfies my playful predatory desires.
After a good adventure or play session, I am always down for snuggles and cuddles with my people. My foster parents and all the people I've met say I am the sweetest, most snuggly cat around. A Casanova with the kisses, too. Word on the street is my smooches are the best in town! I don't discriminate with my love; I'll snuggle with any human, big or small. I can be a little choosy with my animals friends though. I like most cats, just gimme a minute to warm up, and I ignore the ones I don't like. I'm not a fan of kittens. Those crazy furballs harsh my mellow in the worst way. I am more picky with dogs. I've met some I don't like at all and some I don't mind. It's a feeling, you know. Sometimes you jive and sometimes you don't.
I have loved living in my foster homes, Zoe's takes such great care of me, but I'm ready for a forever lap to snuggle. If you like doughnuts, we should meet! Check me out and apply to adopt me!