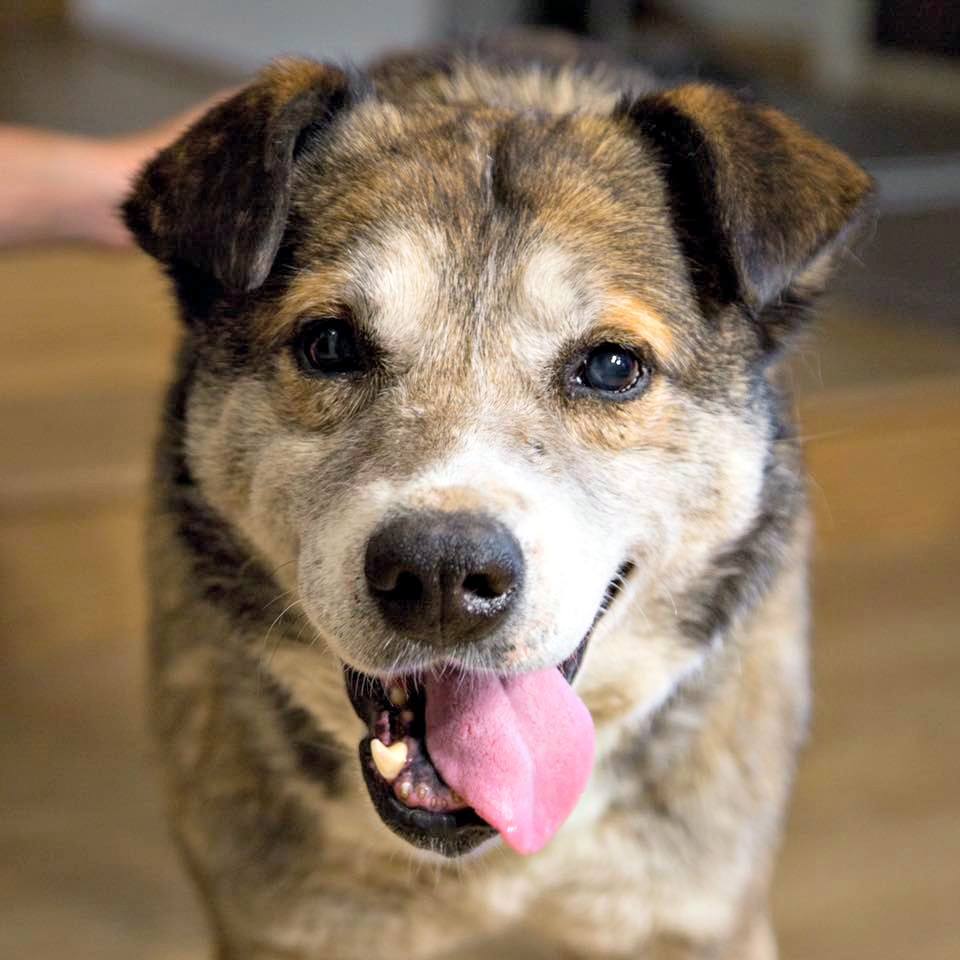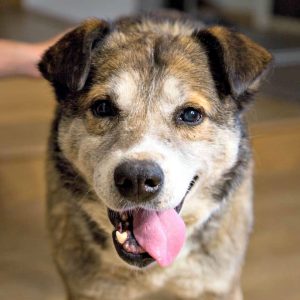 *Bump*
Oh, pardon me…
*Bump*
Oops! Excuse me!
*Bump*
*Sniff, sniff*
Hmm….you smell human. Listen, I've got an itch right behind my ear. Would you mind?
Ahhhh….. That's better, thank you.
Hi! I'm Morgan! Sit down beside me and let's play a game. I'll tell you three things about me and you have to guess which one is a lie.
I'm 10 years old.
Famous actor Morgan Freeman was named after me.
I'm blind.
Can you guess which one isn't true? I know, I know. Too easy, right? I just wanted you to sit beside me and pet me. Now that you're here, there's no sense in getting up. Let's chat.
I'm looking for a forever home. I had a family but they weren't able to properly care for me, so Zoe's took me in. I took a little time to adjust in my foster home, being blind makes new environments a little nerve-wracking, but nothing keeps me down for long! I'm always smiling!  As long as I have a patient human by my side…
I went to Kause for Paws at Koch Ford on the weekend. It was a little much, not gonna lie…. I don't really like big open spaces, they're very hard for me to navigate. But once we settled inside where people registered, I was able to relax. The best part was all the people; a solid five hours of love, cuddles and scratches. That's the good life….
Bark on the street is that senior dogs have a hard time getting adopted. I don't understand that at all. Senior dogs are the best!!
No offence to puppies, they are pretty cute, but us older dogs are so much easier. We don't ask for much: love, food and a comfy spot to lay our heads. At least that's all I'm looking for. That and a home where I can be close by my people at all times. Being alone for too long makes me restless and I start to investigate things I probably shouldn't. Like the kitchen counters…. In my defence, I don't exactly know it's the kitchen counters I'm surfing. It's not like I can see that I'm in the kitchen. Wink, wink….
My age and vision impairment don't hold me back at all. I hope it won't hold you back from applying to adopt me!