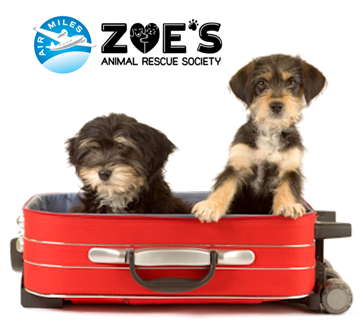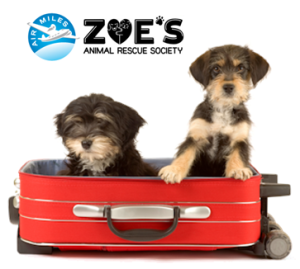 Do you collect AIR MILES® and have a few on your account that you're not using?
Why not clear up that balance and put it toward a fantastic cause! Zoe's Animal Rescue lets you turn those unused miles into a cash donation.
For every 95 Cash AIR MILES®,  Zoe's will receive a $10 donation.
It's super easy to do and there are only a few steps that help make a HUGE impact for these animals. Here's how you can help:
Go to changeit.airmiles.ca/browse – scroll to the bottom of the page and click GET DONATION CODE and on the following page, hit REDEEM NOW
You will receive TWO emails – click DONATE on the second email
Search "Zoe's Animal Rescue Society" and click ADD CHARITY
Make a donation of your choice … and you're all done! *tax receipts will be issued 
Share this with your friends and family – and let's aim sky high to get all of the donations we can to help make positive changes in the lives of cats and dogs in need.
CLICK HERE to see where earn AIR MILES®    |    CLICK HERE to get an AIR MILES® card