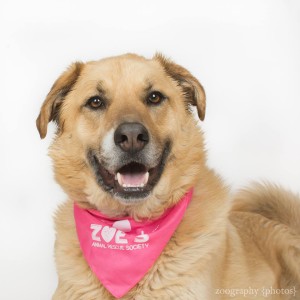 Hi friend! I'm Chance!
This is my second visit to Casa Zoe's. Unfortunately some 'circumstances' changed for my former family and they couldn't keep me. I'm not sure what 'circumstances' means, but here I am! Ready to find another family!
The good people of Zoe's thought I should tell you about myself. They say anyone who knows me falls in love with me, that pretty much means the only reason YOU don't love me is because you don't know me. So let's get to know your blonde beau!
First, the not so great bit….
I'm leash reactive.
There. I said it.
Nobody is perfect right? I saw this quote once: "To conquer your flaws, you must first accept them." I have accepted and am already working on the conquering. Zoe's put me up at a kennel where I will work with a trainer who will help me learn how to stay calm and be ok with other leashed dogs when I am on my leash. My adoptive family must continue this training with me. Not only is it vital to my well-being to conquer this leash reactivity, training together will help us bond. I'm a smart guy, I already know basic commands very well and I am eager to learn more. If we both commit to this training, I know I can shake my fears.
Now all the good bits…..
I am full of energy and love to play! Playing with toys, playing with dog pals, playing in the water….. Playing in the water with dog pals and toys….. That's almost TOO much fun!! I also love jogging. My last foster mom and I used to jog 10 km, she said I was the perfect running buddy. I stayed in front, kept a good pace and steady energy the whole way. I've got energy for days!! I dream of an acreage with a pond and dog pals (like my last foster home) so that I have lots of room to run and play. And a family. A high energy family who will walk or run with me every day and play with me outside too.
I like to make my people happy, always keeping eye contact and listening when doing my tricks. I've learned sit, stay, paw, lie down, and play dead. I'm also great with kids, older ones who have good dog manners. Sometimes I need a little personal space, so I'm best around little people who can understand that. And, despite my issues with dogs and leashes, I really love dogs! My favourite thing to do in my foster home was playing in the pond with my foster brother. In case the repeated mention of ponds didn't translate: I LOVE WATER! My foster mom could barely keep me out of the pond.
Leash reactivity and mandatory training can be intimidating, but I am a great guy in so many ways. If you give me a 'chance' and spend some time training with me, I know I will make you proud.
Let's meet! Check out my bio and apply to adopt me!