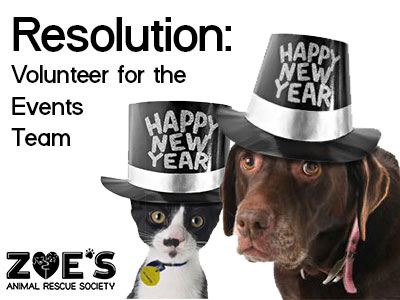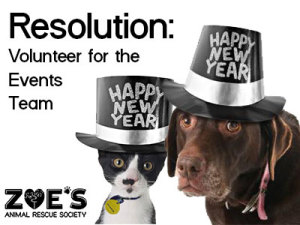 The Events Team is looking for volunteers to join us going into the New Year!
All the members of the Events Team will help with planning and executing events, not simply limited to your chosen responsibilities. You can make the position as big, or as little as you want, committing as much time as you have room for! There is always opportunity for growth, especially with fundraising.
We are looking for help in the following areas:

Marketing Coordinator (1 position)
2-5 hours/week
Help events team by advertising events to the Zoe's Family, liaising with Web Team and Events Coordinator to advertise on social media, and getting posters made (no experience needed) and e-mailed. 

Volunteer Coordinator (1 position)
1-2 hours/week
Liaise with our Facebook Guru Holly Foisy, Events Team, and the Zoe's Family to advertise for, and keep track of, volunteers and fosters for adoption events and other events, remind the Zoe's Family of any upcoming commitments. 

Fundraising Administrator (2 positions)
3-5 hours/week
Up for a challenge? Become a middle man to the Zoe's Family by helping bring new ideas to the attention of the board, keeping an updated list of fundraisers the Family is putting on, and liaising with Events Team and Web Team to keep our fundraisers in the spotlight. This is NOT a position to be responsible for putting on fundraisers (unless you want to), as that is a Family effort that should not be left to one individual. 

Corporate Donations (1 position)
1-5 hours/week
Liaising with Events Team, Web Team, and Zoe's Family, this role will reach out to businesses for donations (such as for silent auctions), drop off letters, flyers, or aid in responding to inquiries from our business partners. You may also be asked to liaise with the other teams to coordinate pick ups of donations from businesses and offices. 1 volunteer needed, 1-5 hours a week.
Fill out a volunteer application and note which position you are interested in to apply.