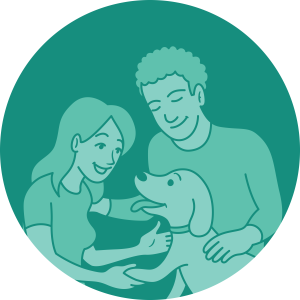 So one of our animals is tugging at your heartstrings. We know the feeling. If you're ready to take the next step, here's how it works:
1. You fill out and submit our online adoption application. You will receive an Auto Reply email shortly after you submit the form. Be sure to check your Junk/Spam folders 🙂
2. Our team reviews your application. If it's a good fit, we will be in touch with you within 7 days (we are volunteer run and unfortunately can't respond to every application) depending on if the animal is ready for adoption.
3. You and your family have a Meet 'n' Greet with the rescue animal to see how everyone gets along. Meet 'n' Greets usually take place at the foster's home, and are pretty casual. You get the opportunity to hang out with the animal, as well as talk with the foster about the animal's personality, energy level, and quirks.
4. We check your references and conduct a home check to make sure that you have everything the animal needs. Often, the home check is just a matter of pointing out areas that need to be cat- or dog-proofed. This can take anywhere from 2 days to 1 week as we are volunteer run. Adults who were not at the meet and greet are required to be at the home check.
5. If all goes well, you sign an adoption contract, pay the adoption fee, then welcome your new family member home! If the kitten(s) or puppy hasn't been fixed yet then you will have to wait for that to be done first and allow a few days of recovery before you can take the kitten(s) or puppy home.
But that's not all! If you have any questions or need help with training, you can get in touch with us at any time.
What're our policies? Find out below!
Cats can be allowed outside on a harness/leash or in a catio. We do however have a barn program for people looking for mousers.
Declawing/debarking is NEVER EVER allowed.
All residents dogs/cats must be spayed/neutered unless there is a valid medical reason that your vet can provide to us.
We do not adopt out animals as gifts. Everyone is required to be at the meet and greet or at the home check. Kids are always required to be at the meet and greet.
If you adopt from us and you must rehome the animal for any reason, the animal must come back to Zoe's. No exceptions.
We do not ship our animals. You'd be required to come to their foster home for a meet and greet prior to finalizing adoption.