By: Andrea Young
We've all heard the phrase and we all know the answer. Every pet I've had has always come when I've needed them. Good times and in bad. They have all had a story, and it's usually a bad one.
People in rescue are like that too.  We are a diverse group with varying upbringings. Some traumatic, some abusive, some neglectful, some spiteful, and some loveless.
I was one of the lucky ones until I wasn't.
We lost my eldest son to violence. My world imploded. I had been a single parent and I felt my purpose was no more, or so I thought.
I had to start taking care of me. I had a 5-year-old depending on me and a husband desperately trying to mend us all.
I became the Director of Victims of Homicide, a support group in the city of Edmonton. It was there that my true purpose exposed itself. I had to bring my dog into the meeting with me one day as I don't leave my dogs in the car. We had come from the vet and I had forgotten about the meeting (one of the factors of having PTSD).
Long story short, my beautiful broken boy, Jake (Shepard cross 120lbs) wove some magic and we started to see immense light come back in our members' eyes.
That experience so inspired me I had found purpose again. I chose to take an animal training course through the Edmonton Humane Society and the lovely, Bilinda Wagner.
I wanted to help those that were as broken as me and that didn't have a voice.
My family had done fostering when I was young, and I wonder why I didn't think of it sooner. At any rate, 89 dogs later and Zoe's co-director (who I co-parent newborn litters with) asked if I would like to name our newest litter after my son.
I think I stopped breathing, thinking and computing. After it all sunk in, what an honour and a privilege it was to remember my son and celebrate these precious lives. It was a full circle moment for me as my son was a HUGE animal lover himself.
In just a few short days ten healthy smart, exuberant and joyful puppies will be making their way to their foster homes to start looking for their forever lives with adopters.
Each puppy name means something to my son, a nickname, a favourite character, a treasured family member or friend and a place he frequented.
He is gone and I can't change that. The universe knows I've tried.
Ten beautiful souls will be spread around with my son's spirit, and I truly believe he's in every one of them.
Brandon was kind, funny, clumsy, independent, fearless, an observer, comforting and generous of his time.
These puppies are all that and more. I'm a proud co-mama.
The goodbyes will be tough, I feel like I'm grieving his loss all over again. But truly the honour has been all mine. The joy the purpose the strength they have given me is immeasurable.
To my puppy family:
Pokey, Batman, Cuba, Einstein, Dragon, Tina, Wiley, Betty, Goose and Lexus,
May you know nothing but pure joy and happiness (and you better keep in touch with me!). To Kath Oltsher, who made all of this possible and has rode the emotion train with me, I adore you and respect the hell out of you.
Zoe's is my lifeline. My second family. My people.
Life can be really hard. Pets always make it better, in the moment and far into the future.
Rescuing is hard, sad, maddening, life sucking, joyful, hilarious and comforting.
I hope, universe willing, I will keep being rescued and I can return the favour!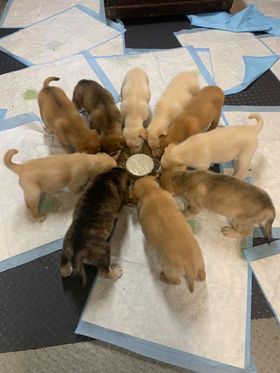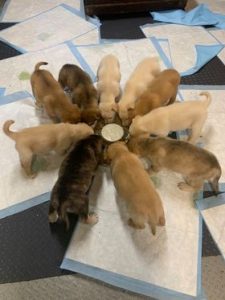 Please note: If you interested in adopting, please check on our website to see when they will be available. Also, please note that we will NOT be accepting applications prior to. Thank you!