Kaylie Belcourt
Is your dog a leash monster? Does your dog walk you instead of you walking your dog? Are you leash training? Do you have a dog who you take on walks? In all of these scenarios, a harness is a much better choice than walking with leash attached to a flat collar.

Walking with a harness distributes pressure from pulling over more of the body as opposed to concentrated pressure on your dog's neck when walking with a leash and flat collar – which can damage your dog's throat and neck, cause tracheal collapse or even protruding eyeballs. In addition to being physically safer, using a harness gives the walker more control over the dog, especially for reactive dogs or dogs who jump or pull, and are the best choice for breeds that are prone to respiratory problems (Boxers, Pugs, Bulldogs, Yorkshire Terriers, etc.) since restriction to the neck has been decreased. Another added bonus of harness walking is that, in most cases, the leash clips to onto the harness at a point on the dog's back, so there is less chance of the leash getting tangled in the dog's legs and yours!
When choosing a harness for your dog, consider their size and strength, their current leash skills, as well as the overall comfort and preference for both human and dog.

There are three types of harnesses to choose from:
Front clip– Provides the best control. With the leash connecting at the chest, a front clip harness provides the greatest amount control in steering or turning your dog right around. Wherever a dog's head goes, the body will follow. Front clip harnesses do tend to tangle a bit easier.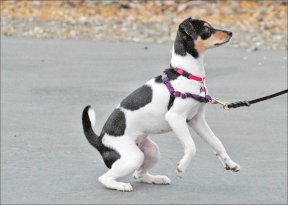 Back clip– The most popular choice. Back clip harnesses are easy to put on and use, however they don't provide the best control if your dog is reactive or has not learned how to properly walk on leash.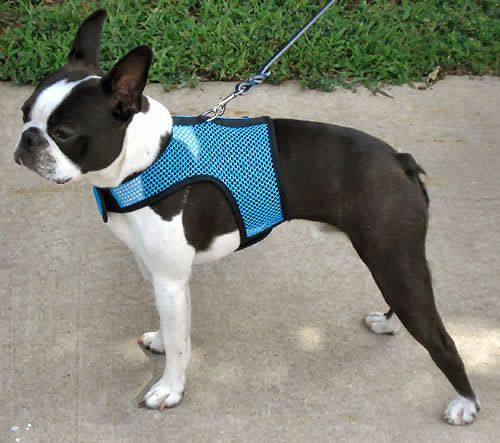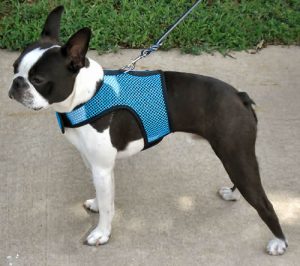 Dual/Multi-clip– This style is becoming very popular because it provides the advantages of the both the front and back clip harnesses. Some styles have more than two clips as well as a handle to provide extra control. (Multi-clip bonus: small dogs can quickly and easily become pup suitcases, or pupcases, and that's always entertaining.) While they tend to  be on the more on the expensive side, this is a worthwhile investment if you are leash training and can transition to an every day walker buy securing one leash to only the back clip.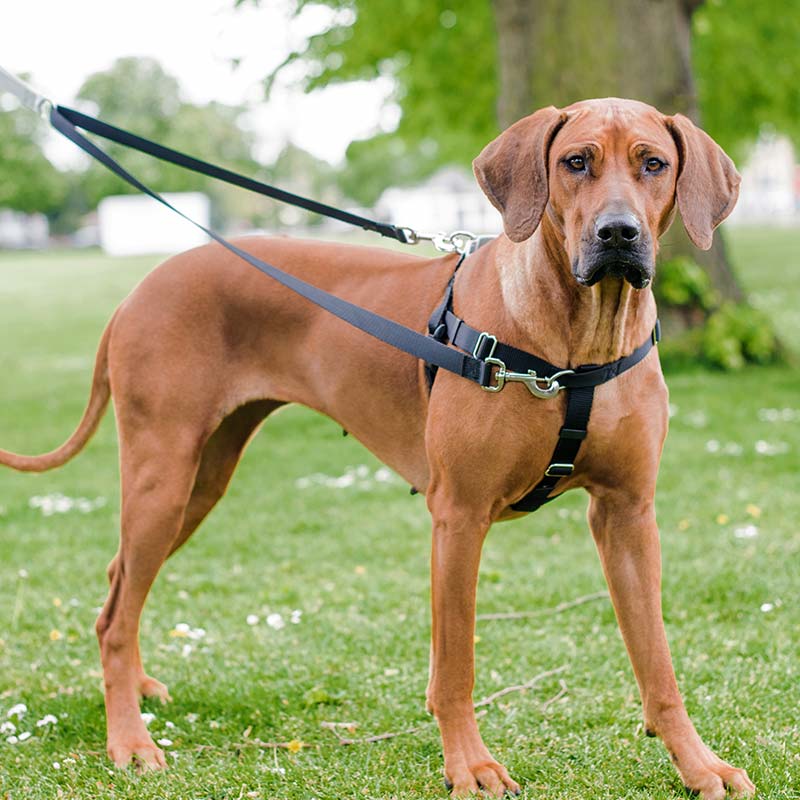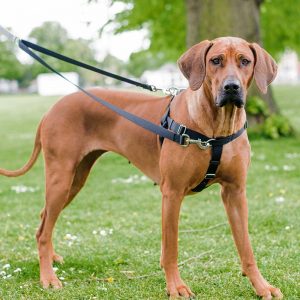 Once you've decided on a clip style, consider how the harness goes on and off your dog. There are two options:  
Overhead- This one goes over the dog's head and usually has fasteners at the neck and torso. If you have a patient dog who doesn't mind things in their face, this will work just fine.
Step in- This one is a bit easier as your dog literally steps into the harness, typically just one fastener at the torso.
Fit your dog before you purchase and leave the store. A too small harness will be uncomfortable, painful and restricting; too big and your pup will slip right out. Many local pet stores, like Homes Alive, Bone & Biscuit, Tailblazers, or PetValu, have trained and educated staff who can help ensure you choose the right harness for your dog.

Once you have chosen the right harness, you will need to adjust and fit it to your dog. The straps should be snug against the body, but not tight, with just enough space to fit two fingers between the harness and your dog.

Now, who's ready for walkies?!?! Huh?? Who's ready for walkies!?!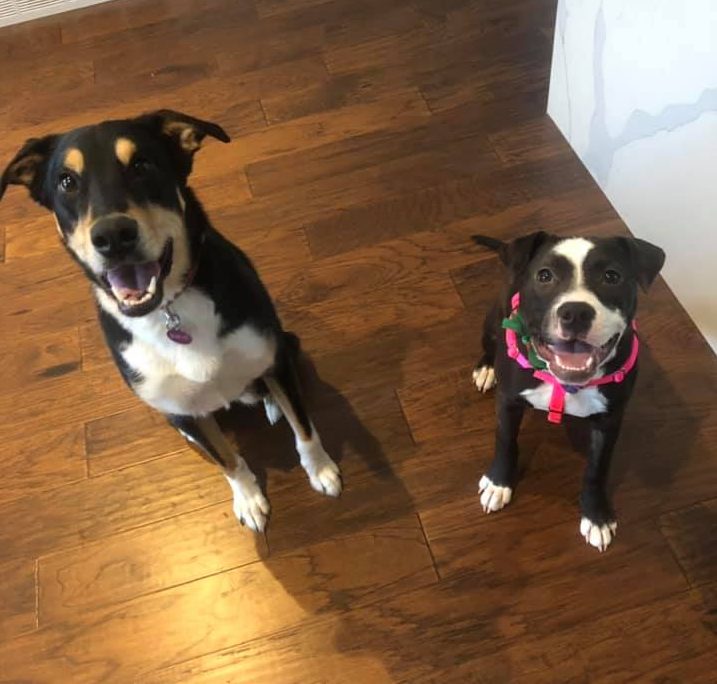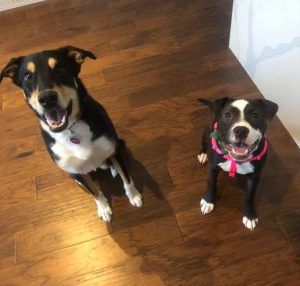 Zoe's is committed to being 100% force free. We strongly advise against the use of choke, shock, and prong collars. All of these aversive items will cause pain and damage to your pet, usually to the trachea or esophagus, sometimes to the skin and fur.