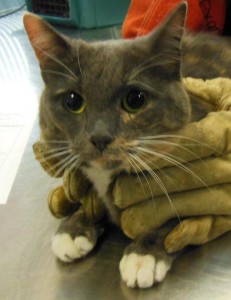 I had a great time during my tour of the Edmonton Animal Care and Control Centre in January 2016. A large part of that tour, however, was to get answers to a lot of the questions I had about them. Before we start I have to thanks fellow Zoe's volunteer Tammy as well as the entire staff of the ACCC for giving this opportunity to fight fables with facts. (Yes, that's my new motto…) 
What is the capacity of the ACCC?
Currently they can hold 116 cats and 50 dogs. However, they can increase this capacity in the event of a sudden influx of animals (e.g. a hoarding situation).
Is the ACCC on social media?
The ACCC currently has a website and they just launched their Facebook page in January 2016 – https://www.facebook.com/animalcareandcontrolcentre/.  The Facebook page helps coordinate much more closely with animal rescue and lost pet groups and they post new intakes once a day.
What process does an animal go through when they are brought to the ACCC?
The animal's picture is taken

The animal gets a full physical examination by a registered veterinary technologist (including an ID check)

Aggressive animals get a full visual check

The staff treat and medicate the animal as necessary, as directed by the in house veterinarian

The animal is transferred to a kennel

Dogs get a clean bed and blanket, food, water, and at least one new toy a day

Cats get a clean bed and litter, food, water, and at least one new toy a day

NOTE – all of these kennels are large. In the case of the dog kennels, often very large (2 rooms with connecting door)

The animal receives daily health checks or more often if needed

The animal receives daily sessions in the outdoor run, treadmill, or enrichment room

Multiple behavioral assessments are performed during their stay (daily or more often)

The ACCC staff searches extensively for owner

If the animal's owner is found, they are notified
How does ACCC search for the owners of lost pets?
The search for an animal's owner is very extensive. It includes:
Visible ID tags

Microchip information

Tattoos – they will call multiple vets for information

Public records search

PetLynx

Kijiji

Facebook lost animal groups – some staff may also post there

If the animal has been given to another owner, they will follow that trail of owners
How long will an animal normally stay at the ACCC?
Animals with an ID stay 10 days. Animals without ID stay for 3 days.
What happens when the animal's stay is up?
Animals that meet the EHS behavioral criteria are transferred there for adoption.

Animals that do not meet the EHS behavioral criteria are transferred to rescues wherever possible. The ACCC networks with several rescues to get them fostered and eventually adopted.

Animals with extreme aggression that constitute a danger to people or other animals are euthanized.

Feral cats – the ACCC works with several rescues to provide barn cats.

NOTE: Animals are not euthanized for lack of space – the ACCC has reserve kennels available. For example, they can subdivide a large dog kennel into two smaller ones. (During my visit I got the strong impression that euthanasia is only used as a last resort.)
What Advice can the ACCC give to pet owners?
Keep your pets inside whenever possible.

Keep your pet's license tag visible.

Have your pet microchipped.

Always keep your pet's license or microchip information up to date.

Be a responsible pet owner.

Don't let them poop in the neighbor's yard

Curb excessive barking

Don't let your dog off-leash in on-leash areas.

Learn the proper etiquette and safety tips for off-leash areas

Learn what it takes to be a responsible pet owner
What is ACCC's outlook for 2016?
2016 is looking like it will be a very challenging year. As the economy declines, the rate of abandoned pets increases so they are preparing for this.
Does ACCC help when an animal is in acute danger? (Stuck down a sewer or in a tree?)
Normally the Fire Department or emergency services should be called for this. ACCC will assist these departments, however.
Can ACCC help if a pet's owner dies?
Yes. They will hold the animal for 10 days, and they will do everything they can to contact the person's next of kin. If that fails they will transfer the animal to EHS or another rescue.
Do you take volunteer applications?
Not directly. However, people can volunteer for one of the rescues that ACCC works.
Do you take applications for animal fosters?
Not directly. However, ACCC works with several animal rescue organizations for its animal fostering so a person can sign up through them
Do you take owner surrenders?
No – this is done through the Edmonton Humane Society (EHS).
Do you have a Trap/Neuter/Return (TNR) program?
No, but several animal rescue societies including the EHS do TNR programs.
Do you do pet adoptions?
ACCC does not adopt animals directly. However, they transfer unclaimed animals to EHS and other rescues for adoption.
Do you only work with the Edmonton Humane Society (EHS)?
No, although they are the primary organization they work with, the ACCC works with other rescues as well. Examples include transferring animals to other rescues for fostering, and transferring feral cats to rescues that have "barn cat" programs.
Do you have any assistance for animal rescue organizations?
Yes. ACCC provides grants to animal rescue organizations, called ARF grants. These grants can assist with many needs of animal rescues such as events, veterinary costs, and so on.
Do you have a "Barn Cat" program for feral cats?
The ACCC works with a number of rescue organizations that have barn cat programs. These programs are an excellent alternative to euthanizing cats that cannot be adopted or socialized.
If I have a poor customer experience with the ACCC, what can I do?
When you call 311, try to get a ticket number for reference before they transfer you to ACCC.

Have a pen and paper handy (or use your smartphone).

Be sure to get the person's name you are speaking to.

Try to record all of the details of the conversation as best as you can.

Stay as calm as possible during the conversation.

If you feel that you have grounds to make a complaint, call 311, provide the ticket number and details, and they will process your complaint.

NOTE: The above process also works for commendations as well.
This is the first of two FAQs on the ACCC. The second set of FAQs will answer some of the tougher questions, so stay tuned!