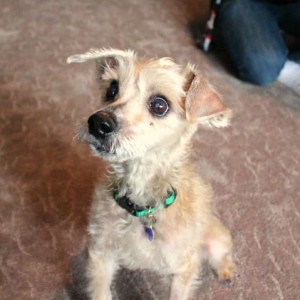 Miniature Schnauzer??
Pft!
I am NOT miniature. What are these people talking about?? I mean, I guess I'm a little short, but miniature? Not a chance.
You know what else I take issue with? My foster mom saying I have a "little attitude." Double pft!!  I don't have an attitude, I have PERSONALITY. And not the fake Cheez Whiz kind of personality; I am authentically amazing. And seriously sweet – that's one thing my foster mom and I agree on. I love snuggly cuddles!
I'm feeling so much better these days, huge thanks to Zoe's! When Zoe's rescued me I had uncontrolled diabetes, they said my blood sugar was in the thirties when it should have been in the single digits. I was kind of a mess. But now I get insulin shots twice a day and I'm on special food. I'm also on medication to help with Cushing's Disease, but that's just one pill a day. And I'm blind. Cataracts from my diabetes being untreated for so long. But that's it! I promise! Other than the diabetes, the Cushing's and the blindness, I'm AWESOME! Haha!
That sounds like a lot of work, doesn't it? It's not really. And my foster mom says I'm totally worth it. Which I am, obviously.
I don't let any of my medical issues get in the way of my awesomeness. In fact, I think it gives me some advantages. Like making one of my foster siblings my personal seeing eye dog. I didn't even need to get on a wait list for that! I also made up a fun game with squeaky toys. They are my favourite, I like to throw them and then try to figure out where they ended up. Sighted dogs can't play that game. Cause they can SEE where the toy went! (Ba dum bum CHING!)
No way am I letting a few medical issues hold me down! And now that they are all under control, I'm ready to find my forever home. My biggest request is patience and dedication. I need people who will be patient with me while I learn to adjust to my new surroundings and I need dedicated people who will continue with my medical needs. And I need snuggly people! Non-snugglers need not apply.
If your couch has empty spot, lemme fill it for you! Head on over to my bio to find out more information and apply to adopt me!