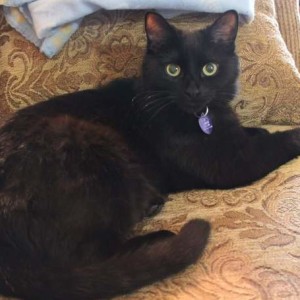 Helloooooo dolls! I'm Missy.
AKA Chatty Catty. AKA Quirky Quinn AKA Clumsy Carla. AKA Loose-lipped Lisa. AKA Ditzy Della.
AKA the best cat you'll ever meet!
Who has four paws and a loooooong list of looooooves? THIS LADY!
I love to chat. My forever home should love to listen. Because I will tell you everything I have done every minute of the day. I love to snuggle. My forever home should also love to snuggle. Because smothering is frowned upon apparently. I love this little green tag thing. I don't even know what it is, but it makes me VERY happy. Be sure to get this from my foster mom. Because I love it! I also love jingle balls. Because they are so fun to chase. I love to be brushed. But in stages. Because I am a busy, busy lady! I love to stare at the fish in my foster home. Hypnotizing!! But do not distract me from my trance. Because I WILL yell at you. I love tummy rubs. But don't touch my back toesies. Because I do NOT like that. I love to play with the hamster when she's in her ball. I assume the pounce position and ready myself for the attack, but then panic when the ball comes my way. Because what if the ball has super powers?!
My foster mom tells people I am a 'cute ditz.' The cute part is obvious, look at me! But ditz?? I dunno…. She says I am 'uncoordinated.' I say I'm entertaining. Plus I don't think an uncoordinated cat could pick up food and eat from her paw, now could she? I didn't think so. I'd take offence to this ditz business if my foster mom didn't bribe me with that green tag thing that I love so much. Humans can be so deceptively loveable.
If my striking good looks and sparkling personality isn't enough to have to furiously clicking the 'apply to adopt me' button, this surely will: I'm part of the Black Tie Sale. That means my adoption fee is reduced to just $75!
They say black cats are pretty much mini-panthers. So adopting me means you'll have your very own panther! How many of your neighbours have panthers? I bet none. So get over to my bio and fill out that application!