Adopted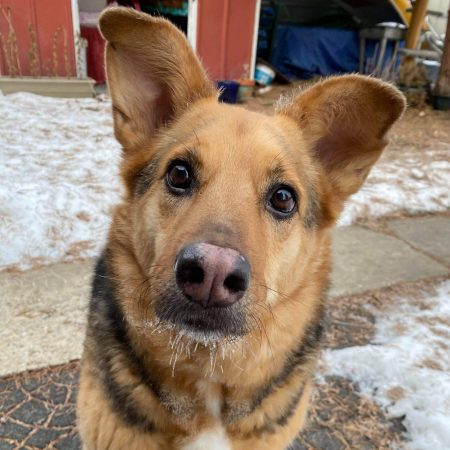 Nyla (Courtesy Post)   |   Female   |   Mixed Breed   |  
Rescue Story:
Due to changes in my current family's situation, I am looking for the perfect retirement home. They are very sad to see me go but love me enough to find me a better home then they can provide right now.
Date of Birth: Approx 10 years old
Energy Level: Low
Size (adult): Medium (Approx 60 lbs)
Adoption Fee:
Good with Dogs? Yes
I would enjoy the company of an older male dog as I grew up with a buddy, but he crossed the rainbow bridge a few years ago now.
Good with Cats? Yes
I am used to cats and have a very healthy respect for them. I understand to give them their space to do their own thing and don't bother them. Though, if they initiate a friendship with me, I will reciprocate and will play gently with them or let them chase me across the house
Good with Kids? Yes
I love kids, but would prefer older kids who understand that I will need my space and that I am looking to retire.
Critter Twitter:
Who wouldn't love a sweet, quiet girl like me? I never bark when someone comes to the door or walks by the house, but I will let out little "puffs of bark" or "grumbly sighs" if I have seen something alarming. I also may let out a little yip to let you know I want to be let inside. I am extremely focused and well trained. I was the top of my obedience classes and was the teacher's favourite. I know all my basic commands very well, and I am always eager to learn something new. I am very food motivated, so you can easily teach this old dog new tricks. I need attention and love, and to be praised for being such a good girl. I am a relatively low energy dog now and not prone to do much but sleep in the house and sniff around the yard. I will play with toys if you play with me, so games like fetch are fun but short lived as I don't have the energy anymore. Though, I am used to two leisurely walks a day, where I am allowed to sniff wherever I want. A good sniff for me is like you reading a good novel or watching a good movie! You do need to keep an eye on me as I do like to eat garbage, well you call it garbage, but I call it a delicacy. 😊 I tried a muzzle, but just didn't enjoy walking with it on, so you will just have to stay on your toes and make sure I don't get into something I shouldn't. I love kids, especially little girls and love to lick faces, but I get a little excited and may nibble or give an open mouthed kiss. So, beware! 😊 I don't tolerate grabbing of my fur, so, no little kids for me please. I won't bite hard but will yelp and give a nip. I am great off leash with most dogs. I will allow a bum sniff but if they are too interested, playful or try putting their paws on me, I will let them know to stop. If I sound like the perfect fit for your home, please put in an application for me.
About my Behaviour:
My ideal family would have someone with me most of the time. I am not used to being left for long periods and I'm not sure how I would tolerate it. I am a sensitive dog and requires a decently calm household. I will slink out of the room if someone raises their voice or sighs heavily. One of my behaviour issues is that I have some leash reactivity. I may bark aggressively when a dog is coming towards me. Whether I am trying to protect my family, or they just scare me. Usually, I get taken off to the side and sit, at which point I will do my puffy woofs or grumbles, but if they keep coming at me and are too close, I may lunge at them. So, I will need someone who understands I need space from other dogs when walking on leash and will continue working with me on helping me feel more comfortable when seeing other dogs while on leash. I seem to have some issues with change and will let you know this by having a bowel movement inside the house, usually overnight. I have only done this a handful of times usually when I didn't get along with a house guest dog. For Food, I am eating a raw diet and would love to continue this. I am pretty picky about kibble and get bored of canned foods.
How's my Health?
I am spayed, vaccinated, microchipped, and dewormed.