Adopted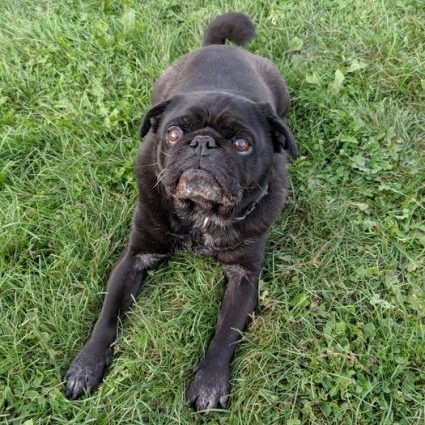 Poe (Courtesy Post)   |   Male   |   Pug   |  
Rescue Story:
I have been with my current owner for almost 10 years but I need to find a new forever home now.
Date of Birth: September 2009
Energy Level: About 80% of the time I am low to moderate energy and enjoy laying in the sun and cuddling. For the other 20% of the time I have high energy spurts like running in silly circles around whoever I'm playing with or taking a toy and playing "keep away." Sometimes, when I'm in high energy mode though I get a little over excited and might jump or nip at your hands or legs in play;  at these times I need help to calm down.  With positive reinforcement training and regular play/walks I know I can improve my behaviour. 
Size (adult): small to medium, I'm about 20lbs
Adoption Fee:
Good with Dogs? Yes
I have been boarded at an Edmonton kennel many times with no issues and I'm always very excited to play with the other dogs there. I currently live with an older dog and enjoy her companionship.
Good with Cats? Yes
I do my best to ignore cats.
Good with Kids? No
A home with older kids (about 12 years old and up) who are dog savvy would be best for me.  I don't like to be treated roughly and have been known to nip in defense and when I get over-excited I sometimes chase and nip in play.  
Critter Twitter:
I'm a very sweet, loving and affectionate boy with just the right amount of silliness.  I love to love and be love and spending time with my person is my favourite thing to do.  If you would let me I would follow you around all day until you decided you needed a rest and then I would jump on your lap and hope for pets and cuddles.  To be happy I need to be part of your daily life, I want to be near you as much as possible and would do best with someone who is home a lot.
About my Behaviour:
I am kennel trained and prefer to be in there when you are gone so I don't have any accidents because I miss you. I tend to guard my food a little. I know basic commands and especially love receiving treats so I don't get too distracted and lose interest in training.
How's my Health?
I'm very healthy but like most pugs I'm quite high maintenance.  I'm an indoor pet with excursions outside (when you are home and can keep an eye on him). 
My vet has recommended the following:
- weekly ear checks and if build up noted, cleansing with a vet recommended ear cleanser (I am prone to yeast infections in my ears  but this can be avoided with preventative maintenance)
- daily, gentle cleansing and drying of my nose fold and eyes to prevent infection
I need my teeth cleaned by the vet yearly unless his forever home is committed to brushing his teeth.  I've tried oral health diets but I prefer to swallow most of the kibble whole thus rendering them ineffective.  I've had allergic reactions to some dental products and it's best that I only use products that are recommended by VOHN
Omega oil added to my diet helps my skin health
vitamin E oil supplements help soften and eliminate the hyperkeratosis on my nose
I need to maintain my weight, eating is my favourite thing, next to cuddling, and I will eat until I am physically sick if you let me! If I get too heavy I can develop breathig problems
my nails grow quickly so I need weekly nail trims
I am sensitive to heat and in the hot weather I can get sick so best to make sure I always have access to shade and water.