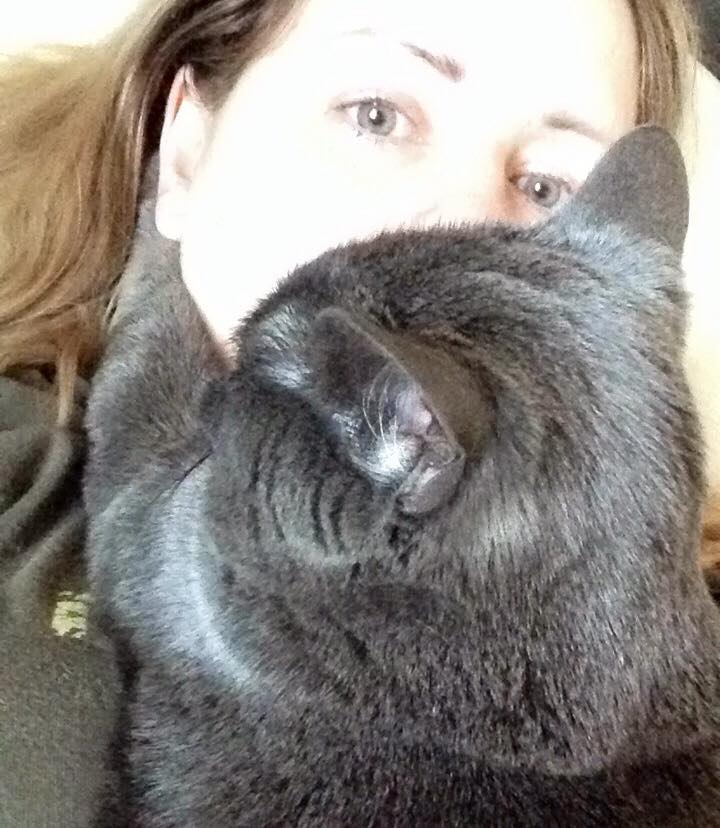 What kind of rescue would we be without a crazy cat lady???
Not a proper one, that's for sure!
That's why we have Jacqueline! She's crazy in all the right ways, a proud lover of all things feline and an integral member of the Zoe's family.
Can you tell us a little about your background before you became a volunteer?
I was born and raised in Edmonton and have an undergraduate degree in psychology. I worked for about 20 years in health, administrative and accounting positions and have also been volunteering for a variety of animal charities throughout my life. I now only work casually so I have much more time to devote to doing what I truly love, which is volunteering at Zoe's with my amazing husband.
How did you first get involved with Zoe's?
After my cat of 21 years passed away, I decided that I needed to foster, rather than jump into adopting another fur baby. Zoe's was recommended to me by a friend and after checking out their website, I was hooked.
What roles have you carried out for the society?
I have fostered over 30 cats/kittens, I process cat adoption applications, maintain our animal and volunteer database, help with our SaNeR (spay-neuter-return) program by trapping feral cats and transporting dogs and cats to/from our partner communities, help with medical bookings, co-ordinate our donation box program and help with fundraising events and website support.
How long have you volunteered for Zoe's?
Just over a year now.
What types of things have you been involved in as a volunteer?
Such a variety of things that it's really hard to describe! I'm interested in so many areas so it's been great for me because I get to do a little bit of everything. Building straw dog shelters was an incredible experience for me and helping out at fundraising and adoption events is always so much fun!
What's been your funniest experience as a volunteer?
I spend a lot of my time with another volunteer, Jan, and we are ALWAYS laughing on our treks around the city. Whether it's spending 6 hours trying to trap a "feral" cat, only to have a local resident walk right up to the cat and scoop it up with no issues at all, or driving around trying desperately to find a late night dog wash after an incident with explosive diarrhea, we are never bored! I will also never forget the look on one dogs face after I caught her with half of my just-purchased scone hanging out of her mouth!
What do you like most about volunteering?
The difference I feel that we are all making. One animal at a time. The people are pretty awesome too!
What one piece of advice would you give to someone thinking about volunteering for Zoe's?
Do it! I have NEVER been happier in my life. The support and friendships I've made are simply amazing. The best part is that you can commit to volunteering as much or as little as you want. Volunteer to transport an animal or pick up a donation once a month, help make reference calls or home checks whenever you happen to be available. Foster a dog or cat, help out with fundraising and adoption events or help out with social media. There are so many areas where you can help make a difference and it is SO rewarding.
How much time do you spend volunteering?
A lot, lol, but only because I love it so much.
Do you volunteer for any other organizations?
I used to volunteer for the Edmonton Humane Society and I currently volunteer, very casually, for the Wildlife Rehabilitation Society.
What makes you happy?
Cats, my husband, friends, coffee and naps are what I normally say, but honestly the most incredible feeling in the world for me is helping to save cats and dogs and finding them forever homes. Cuddling with kittens and puppies is a pretty great thing too!
What makes you sad?
When we lose an animal that we have tried so hard to save. But the fact that Zoe's NEVER gives up without a fight, regardless of the medical costs, makes me so proud at the same time.
Thanks SO much for all that you do, Jacqueline! We are so lucky to have you!
Interested in joining our family? Get more information and apply here.