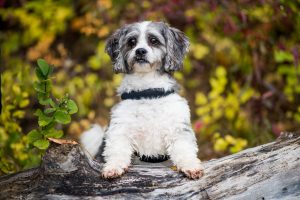 Hi! Scruffy here!
Let me tell you how fantastic I am – cause oh, I am feeling F-I-N-E!
When I first came to Zoe's, I had what they call "Little Dog Syndrome." I was rude and tough and nippy and refused to share. It's not that I'm a bad guy, I just didn't have a whole lot going for me. I didn't have a very stable home, didn't feel safe or loved. That makes a little guy like me grumpy and nervous. I also had some rotten teeth and painful knots in my fur. Pain can make even the most jovial character a sour grape.
Life has totally turned around for me though and I am feeling on top of the world! I've had my teeth taken care of and my coat cleaned up. I've also learned that manners and good behavior are the way to my foster mom's heart. The better my behavior, the more love and attention I get!! It's great! I am much happier now that I am the sweet and cuddly man I'm meant to be.
Being clean and healthy inside out has me feeling like a young fella again. I love to play fetch with my favorite squeaky toy, I love car rides and walks and I'm a cuddle bug! I try to snuggle up with my foster mom at night but she has a silly no dogs in bed rule. Pft!
My forever home should be one that lets me sleep in bed with my people.
Kidding!
I'd prefer to sleep with you, but I can be happy with a cozy bed of my own. Patience and positive reinforcement are what's important to me. Also security and love. Those things make me happy and nobody likes a grumpy Shitzu! I Shitzu not! Hahahaha!! That joke never gets old…..
I am a people dog, I just LOVE people. I'm not sure about the very small ones, though. I think I would be better with older kids.  I wouldn't mind a dog sibling, but I don't enjoy cats. Strange creatures, they are.
So what do you think? Am I the dog you've been waiting for?
I am!?!? Yay!!
Go check out my bio and apply to adopt me! I can't wait to meet you!