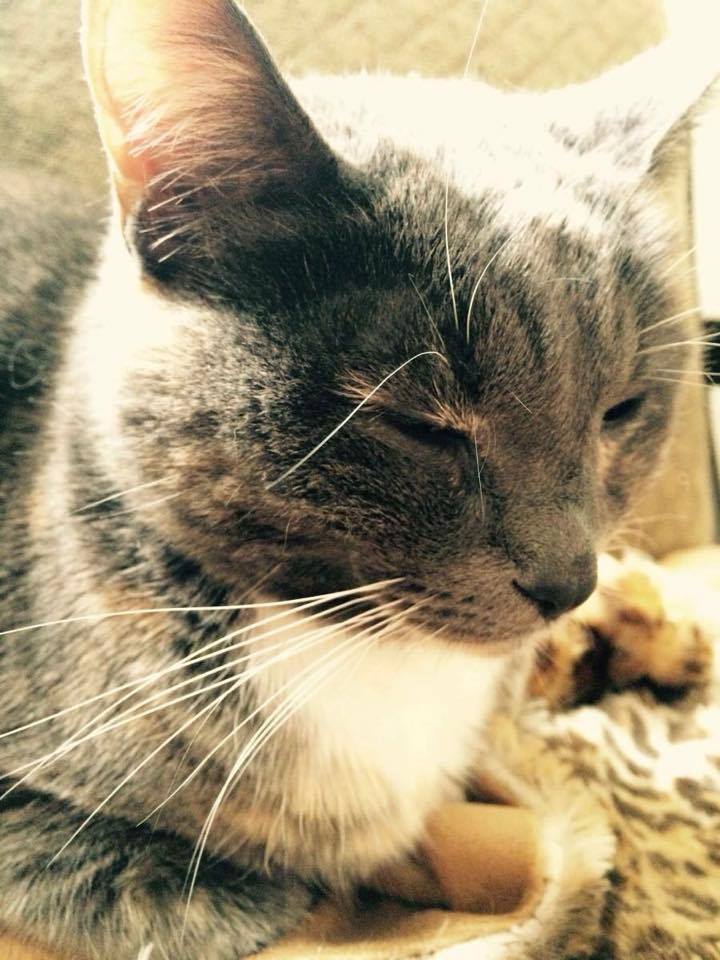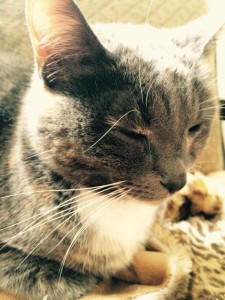 Hello, I'm Heather Willow. Pleased to meet you.
Would you like to settle in for a cup of tea while I tell you a little about myself?
I can't remember exactly where I came from, but I do know I ended up here.  Last summer, my wanderings landed me at a house. The people who lived in the house were very sweet, offering me food, water, and a safe place to sleep. So I stuck around for a while. Who wouldn't, right? The people figured I had to have a family somewhere, so they took me to Animal Care & Control to try to find my people. Unfortunately no one claimed me and I wasn't chipped or tattooed; there was no way to find out if I did indeed have a family.
I stayed at the shelter for a short while, but I was very anxious and uncomfortable. Some cats just aren't made for shelter life. Thankfully Zoe's found a foster home for me quite quickly. I was still very scared and timid, but not nearly as much as I was in the shelter. And here I have been for the last few months.
Living permanently indoors isn't so bad. I'm still quiet, a bit shy and calm, but I don't hide or jump at every noise anymore. In fact, now that I've settled in, I can be quite playful! My foster mom has a laser pointer that I just LOVE to chase around. She sets up a sort of obstacle course full of noisy toys and makes me run into them while chasing the red laser dot. It's so much fun!!
There are two senior cats in my foster home, we get along great! We are really good at snoozing together. We play sometimes too, but those community cat naps are the bees knees! I'd really like to have another cat or two in my forever home. I like my cat friends like I like my forever home: calm and relaxed.
Maybe your home is the right home for me? Check out more about me and apply to adopt me here!