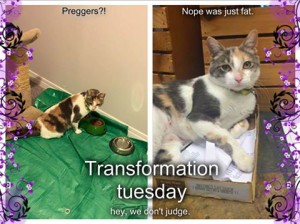 We received word of a beautiful cat who looked to be pregnant out on the streets. We didn't want her to give birth in the freezing cold so thankfully we were able to catch her. She looked rather plump so we figured she must be due soon. Weeks passed with no babies and her foster started to question this pregnancy.
"I think she might just be fat. No babies yet."
We gave it a few more days then brought her to the vet to have x-rays done which verified that she was indeed – fat.
She was put on a diet. (Jon understands her pain, but thankfully with being a male we never thought he was pregnant. I don't think he could ever live that down.) Once she was at a good healthy weight she was brought to Tailblazers South to find her forever home.
We would like to apologize to Quinn for calling her pregnant and then after that, fat. We understand that kind of struggle. To make up for it we promise her an amazing forever home with lot of treats (just not too many please, one can only live with being called pregnant when you're not once in your lifetime!).
If you are looking for an extremely cuddly cat, look no further then this girl. Check out her bio!